Manage Your Database(s)
This page shows you information about your databases, and allows you to manage the information that you have put into the GDB.  Here you can delete a database, review duplicate relationships, bulk-upload scrapbook information, manage replacement status, and download a GEDCOM.  Use this page when you want to do something that applies to your database, not just to a particular record within it.
Show Database List
When first opened the page looks like this: -
<![if !vml]>

<![endif]>
To delete one of your databases, click the appropriate "Delete" command.  This will bring up a "Confirm" dialog like this: -
<![if !vml]>

<![endif]>
Click [Confirm Delete] and the system will attempt to delete the database.  As the message infers, only very small databases can be deleted this way, you'll probably have to send us an email so that we can delete the database for you.
Manage Access/Family Group
The default rules are that you can see and update any of your records, but others can see only your public records (click here to see the Site Conditions to find out more), and nobody else can update any of your records although they can add links to them.   You might want to change this, giving your friends and family the ability to see all of your records and a few people the ability to update them.  You can be selective, giving others full access to only some of your records: perhaps one database if you have several databases, to a family within a database, or even to a single record. What you grant you can revoke.  You remain in full control: you can remove people from your family group (which removes their access rights), or you can modify their access rights, at any time.
You manage access by forming a family group.   Click the button [Manage Access/Family Group] and
<![if !supportLists]>· <![endif]>If it does not already exist, a family group is formed with you as administrator.
<![if !supportLists]>· <![endif]>The Group Administration Page is opened so that you can edit this family group, adding members to it and specifying the level of access that they are to have.
Click here to learn more about using this Group Administration Page.
Review Duplicates
Click this and the button changes to [Hide Duplicates], and a table like this appears: -
<![if !vml]>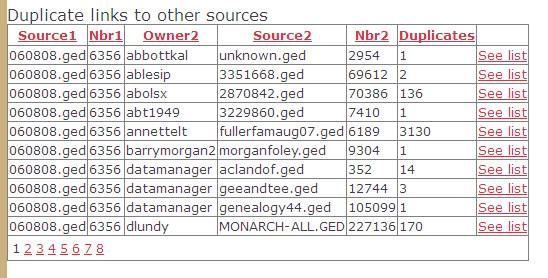 <![endif]>
You can sort this table into order by column by clicking the column heading.  Clicking again reverses the order.  For example, click "Duplicates" to put the table into order (ascending) of the number of duplicates found between two databases.
This column shows: -
Your database "060808.ged", which contains 6356 records, duplicates some records in Abbottkal's database "Unknown.ged", which contains 2954 records.   There is one duplicate record.
Clicking one of the "See List" commands MAY show you a list of the duplicate records.  However if your database is too big, or the other person's database is too big, then this will produce a "time out" error. If this happens, try again: it may work on the second attempt.  However if it doesn't work on the second attempt it probably won't work.
Here we are showing the list of duplicates between the robertb/merged_001.ged (1443 records) and dbarnes/Donald_barnes.ged (639 records) databases.
<![if !vml]>

<![endif]>
Upload Scrapbook Data
This provides a way of uploading scrapbook data from your computer.   It is only useful for some kinds of GEDs. This option is useful it you use Legacy, Brothers Keeper, Reunion, or some other system that includes information about scrapbook data in the GED file, but not with Family Tree Maker, PAF and other systems that do not.

Not sure if your system supports this feature? Try to use it anyway - you'll get a message "This GED has no information about scrapbook (media), so unable to proceed." if the system hasn't got the information that it needs.
Select your database and click [Continue].
Manage Replacement
When you delete or discard a record it is not immediately removed from the database.  Instead it is flagged as "Discarded" (or "Replaced" – the words are used interchangeably) and left in the database for some time to allow you to take information from the record.  However the discarded records don't appear in searches unless you especially ask for them, and should you open them their discarded status is obvious.   
Records will be discarded when two trees are merged, as you attempt to get rid of unwanted duplicates.  However this process is often incomplete and so you may need to clean up the process manually.   This page provides a way of doing that.
Click the button [Manage Replacement] and the page changes to look like this: -
<![if !vml]>

<![endif]>
Enter your userid and select one of your databases.  Optionally enter a family name.  Click [Display Data].  The system responds by displaying the first nnnn (default 1000) records:-
<![if !vml]>

<![endif]>
Here there are only two.  The first is discarded, the second is normal.  Clicking one of the names allows you to change their status between Normal and Discarded, and also the status of their ancestors and/or descendents.
Download GED
This allows you to download a GEDCOM file of your own records: a GEDCOM is generated and emailed to you. You cannot download a GEDCOM of anybody else's records, nor can you give anybody else permission to download a GEDCOM of yours. If your family tree links to others, then only your own records will be included in the GEDCOM.
<![if !vml]>

<![endif]>
The first three options create a GEDCOM from information in the Genealogy Database (GDB), and will reflect any on line changes made since the data was uploaded. The final option locates the original GEDCOM that you unloaded, and doesn't include any changes and links that have been made on line.
Hopefully the downloaded information can be processed by your desktop program, but there are some differences and not all programs follow the standard accurately. The following issues have been noted: -
1.         The Xref keys used by FamNet are too long for PAF, making the GEDCOM incompatible with it.
2.         Family Tree Maker ignores OBJE tags, so Scrapbook links and GDBLink information is dropped.